Coveted Community Impact and Franchise of the Year awards go to deserving franchise owners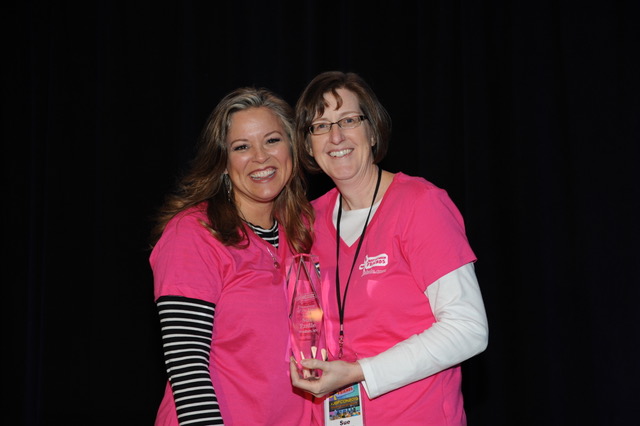 JBF Franchise of the Year is Sue Endle in Woodbury, Minnesota
The independent judges who chose Sue Endle and her Woodbury event as the winning franchise said one key deciding factor is that Endle had the "strongest economic model" of the franchisee candidates in contention. Since purchasing the franchise in 2016, Endle has increased sales at her event in Woodbury by more than 200 percent.
"I am thrilled the judges chose Sue Endle and even more excited about this tremendous growth. Not only is this great news for her business, it also means she and JBF are helping even more families save and make money. That is the heart of Just Between Friends," says Shannon Wilburn, CEO and co-founder of JBF.
Endle focused on marketing through community building and saw impressive growth through social media. In two years, she tripled the number of Facebook fans and her email list.

JBF's Community Impact Award goes to Karen Miner in Gainesville, Florida
When Hurricane Michael hit the Florida panhandle last October, Gainesville, Florida, franchisee Karen Miner put out a call for her JBF consignors and shoppers to help.
Miner's JBF community responded generously, bringing donations to her venue in Newberry: diapers, clothing and other family necessities. Volunteers joined her, and they worked extra hours to fulfill the needs of their charity partner, Healthy Families. They also sorted and organized 29 boxes and 44 bags to help the families. JBF of Gainesville partnered with the city of Newberry and 10 CAN, a nonprofit based in Newberry, to deliver the supplies to the families in need.
"It was such a blessing to help our neighbors during this tremendous time of need. I was so proud at how my consignors, shoppers and volunteers all pulled together to make it happen. It truly was a team effort. The city of Newberry, along with 10 CAN, worked tirelessly to help make it all happen and get the supplies to the many families in need," Miner says.
An independent team of judges chose Karen Miner and Just Between Friends of Gainesville as this year's Community Impact Award winner. The judges said they were overwhelmed and impressed with Miner's generosity and ability to rally her community on short notice for such a big event. One judge noted that "Hurricane Michael was such a devastating event that this franchisee could have stood back and asked for help herself, yet she saw a need and knew she could do something about it. (She) showed her community the love and compassion that JBF works hard to display to communities across the country."
Now is the time to join Just Between Friends Franchise
More Posts You May Find Interesting