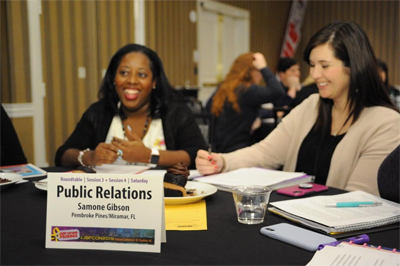 All of our trainers are current franchisees operating successful businesses with JBF. As a new franchisee, you'll receive a combination of virtual training, classroom training, and onsite training.
Online Training/ Coaching
Classroom Training / Onsite Apprenticeship Hours
"I
run seven sales a year, and that is manageable for me as a mother," says Laura Staggs, owner of three Just Between Friends franchises in Colorado. "The beautiful thing about my job is that I can take my kids to school, go to their after-school activities, and spend the rest of my time working on my business. And JBF isn't just for moms! Anyone can own a Just Between Friends franchise. We have men and women who own franchises. Contractually, the requirement is one sale held between January 1 and June 30 and one sale held between July 1 and December 31 each year. But owners may choose to have as many sales as they would like."
While some owners want to keep their franchise activity small, others run their business full-time and own multiple territories. Again, the beauty of the model is that your reward is entirely up to you. You can choose to do the minimum of two sales per year and potentially earn a nice supplemental income for your family, or like Laura, you can do multiple sales per year, scale your business, and take on multiple territories to have as large a business as you would like to manage.