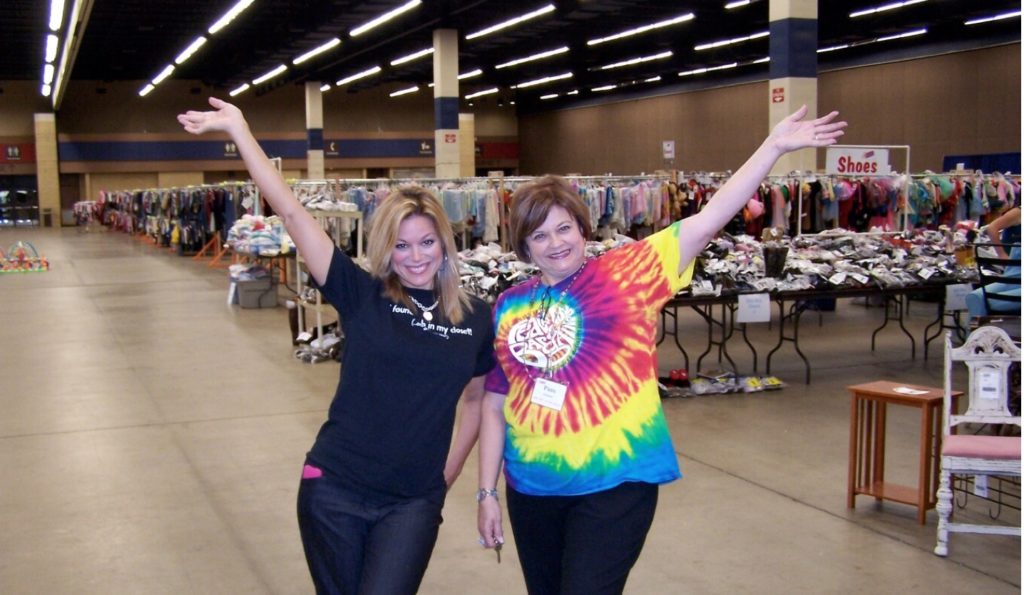 Mother Knows Best: Mom's "Idea" Helped Launch North America's Leading Children's and Maternity Consignment Event Just Between Friends Helps Moms Save & Earn Money all Throughout the Country
Tulsa, Okla. – The saying "Mother Knows Best" rings true for successful business owner Shannon Wilburn, CEO and Co-founder of Just Between Friends Franchise System Inc. It was her mother, Pam McKnight Willingham, who called Shannon more than 15 years ago suggesting she "start her own consignment sale" in Tulsa, Okla. Pam had shopped at a small consignment event in Fort Worth and thought it would be an ideal way for Shannon to make "a little money" while staying home with her small children. Shannon took her mom's advice and she and a friend organized the very first Just Between Friends Consignment Event in her living room in 1997 – with 17 consignors and $2000.00 in sales. Fast forward 19 years and that "little living room sale" has turned into a national franchise system with more than 150 events in the U.S. and Canada that are on target to top $30 million in system-wide sales this year. Each year, Just Between Friends helps nearly 800,000 moms (and dads) save money on items they need for their family while providing a way for them to "turn clutter into cash" But mom's moneysaving advice started much earlier than 1997. Pinching pennies was a necessity for Pam and her twin daughters. In 1982, Pam's late husband Doug was diagnosed with Multiple Sclerosis. The oil company CFO went from working in a successful and lucrative career to having no job and wheelchair bound at the age of 33. They had no savings or "plan B" so Pam learned to find creative ways to save which often included shopping secondhand. That difficult lesson turned out to be the catalyst for what is now North America's leading children's and maternity consignment event. In fact, Shannon returned the favor, encouraging her mom to get involved and start the franchise in Fort Worth, Texas, which is one of the largest and most successful franchises in the U.S.. Willingham retired in 2013, but her former business partner Joanie Morrison still runs the event. HELPING FAMILIES: These nationwide events help other moms and their families in three main ways:
Business Owners:
JBF franchises provide business ownership with loads of room to expand, grow, and make it your own. Success is unlimited! JBF has several mother-daughter teams as well that run their own community event
Consignors:
Twice a year, they help moms and their families turn their unwanted items into cash – a great way to supplement income.
Shoppers:
JBF sales offer gently used and new merchandise for families, from maternity clothes to toys, and help them save 50 to 90% off retail HOW IT WORKS: At the JBF consignment events, local families sell new and gently used items at deeply discounted prices. Shoppers save 50 to 90 percent on thousands of items, including children's and maternity clothing, baby equipment, furniture, DVDs, toys and much more. The events help thousands of families save money on high-quality clothing and other items every year, while providing consignors an opportunity to create extra income selling their new and gently used items. For more information about the Just Between Friends and its events, or to find out about being a consignor at an event near you, visit www.jbfsale.com. About Just Between Friends In 1997, Just Between Friends was created in a living room in Tulsa, Oklahoma when Shannon Wilburn, a mother of two young children, and her friend Daven Tackett hosted a sale with 17 friends as consignors and had gross sales of $2000. In 2015, that same sale hosted two events and grossed nearly 1 million dollars. The sales caught on with families and grew, so in 2003, they formed Just Between Friends Franchise Systems, Inc. Wilburn is now sole owner and CEO of Just Between Friends Franchise Systems, Inc., which has 153 franchises in 29 states and one in Canada. System wide sales in 2015 topped 27 million and they expect to top 30 million in 2016. In June 2015, Forbes Magazine named Just Between Friends one of the top five franchises in the United States, up from #10 in 2014. JBF was also named one of Entrepreneur Magazine's Top 500 Franchises in 2012, 2013, 2014, 2015 and 2016. In 2012, Just Between Friends was one of only 75 companies to receive the U.S. Chamber of Commerce's Blue Ribbon Award. Just Between Friends Franchise Systems Inc. also received a "Franchisee Satisfaction Award" and was named in the Top 50 franchises by "Franchise Business Review" for the past 7 years. Wilburn was also named one of Oklahoma's "50 Women Making a Difference" by Journal Record Newspapers, was awarded the Small Business Administration's "Women in Business Champion" for Tulsa, and was part of the Tulsa Business Journal's 40 under 40. JBF has been featured on numerous national television shows including The Today Show, Good Morning America, Real Biz with Rebecca Jarvis, Fox News , CBS Early Show, ABC News, CNN , Headline News, Inside Edition and CNBC's The Big Idea. They have also been featured in Entrepreneur Magazine, Wall Street Journal, Inc.com as well as many top markets including New York City, Seattle, Denver, Dallas, Houston, San Francisco and Philadelphia and on popular websites Huffington Post, www.yahoo.com, www.sheknows.com and Disney website www.family.com.
More Posts You May Find Interesting